Animal
Feeding
On The Farm
Always cheeky chickens to feed. They eat whenever they are offered food and your food scraps are their treats. Eggs to collect September through to May and are available for guests to purchase, try some and taste the difference. (Egg supply is not guaranteed during the winter months as the hens have some time off.)
Contented cows roam the 250 acres with their calves all year. We do not milk the cows. From February through to May we supplement feed hay, and guests can take part in this 2 to 3 times a week during these months. We usually have one or two calves to hand feed each year, and guests are welcome to assist with this. Please ask about feed times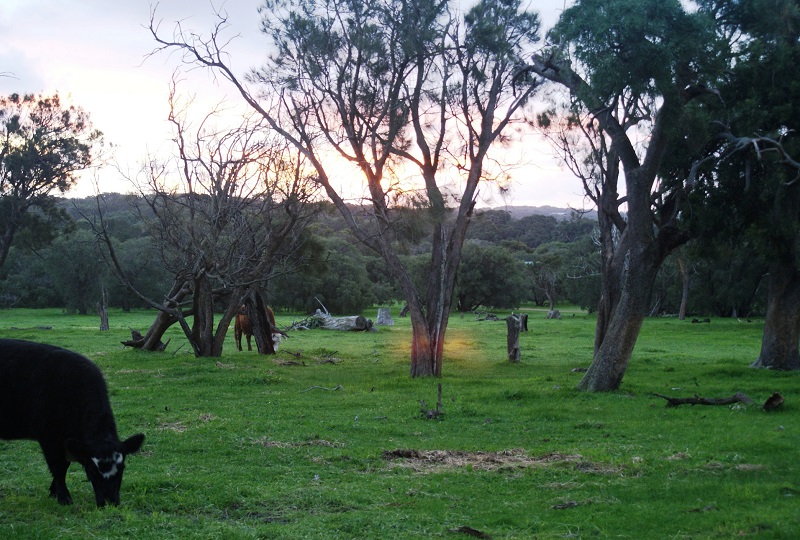 You can also walk anywhere you like around the farm, where you may see any number of local flora and fauna. Keep an eye out for 'Bob' the Boomer, our resident old kangaroo who can sometimes be seen by the Wyadup Brook at dusk.
During the spring months the farm becomes abundant with native birds and wonderful wildflowers, and many guests have enjoyed a walk through our wildflower patch on the southern side of the property.
We invite all of our guests to enjoy themselves on the farm and ask that you please respect our property and animals, and are careful around the Wyadup Brook which runs through the middle of the farm. As there are also three dams on the property, children must be accompanied by an adult at all times.